Hope Eliza
10 Life Lessons That Studio Ghibli Films Have Taught Us
Updated: Apr 11, 2020
Whether you've only seen 1 Studio Ghibli film or all 23+ of them, it is clear the impact these films have had on popular culture as well as animation in general. Each film – in one way or another – presents idyllic worlds and inspiring characters who often find themselves caught up in a whirlwind adventure, whether it's befriending a fish-girl or marrying into the Cat Kingdom's royal family.
In today's post, I'm going to list 10 life lessons that these films have taught their audience, covering films from Nausicaä of the Valley of the Wind (1984) to When Marnie Was There (2014).
MILD SPOILER WARNING
1. Be kind to yourself
As demonstrated in Howl's Moving Castle (2004), When Marnie Was There (2014), Kiki's Delivery Service (1989) and even Whisper of the Heart (1995) – a key message found within Studio Ghibli productions is to be kind to yourself. Characters Sophie, Anna, Kiki and Shizuku all go through times where they are dissatisfied with themselves from their appearance, personality, skill set, etc. Each of these women all go through experiences that shape them during their films which leads them to become more confident and appreciate themselves more. This in turn hopefully inspires audiences to give themselves a break every so often.
2. Be kind to all creatures
Off the top of my head, I am struggling to remember a single Studio Ghibli film that doesn't feature even the smallest of animal characters. Although cats seem to be the most popular choice of the Japanese filmmakers; with a cat companion featuring in Kiki's Delivery Service (1989) The Cat Returns (2002), Whisper of the Heart (1995) & My Neighbor Totoro (1988). There are also plenty of other real and fantasy animals that feature in Studio Ghibli films, further demonstrating the studio's positive attitude towards animals.
3. Seize every moment
Many of the journeys that Ghibli's characters go on, start due to the characters seizing the moment. This is most evident in Ponyo (2008). In the film, goldfish Ponyo is living under the sea with her father and hundreds of younger sisters. One day, she washes up on the shore and is found by young boy Sousuke. The pair form an unlikely bond and Ponyo begins to transform into a young human girl so she can spend her life with Sousuke and his mother – even though she has only known Sousuke for a couple of days! Ponyo truly encompasses carpe diem. 
4. Step out of your comfort zone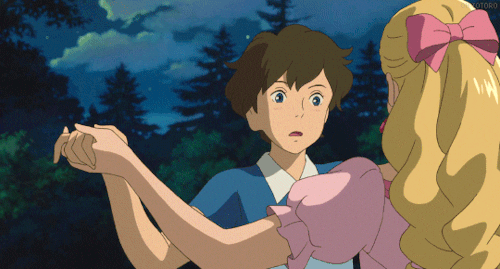 Similar to the last life lesson in this list, many of the plots of Studio Ghibli films wouldn't happen if it weren't for characters stepping out of their comfort zones. This includes Anna from When Marnie Was There (2014), Shizuku from Whisper of the Heart (1995), Sophie from Howl's Moving Castle (2004), Chihiro from Spirited Away (2001), Haru from The Cat Returns (2002) and many others. It is often these small steps that shape these characters for the better by the end of each film. This ideal could inspire audiences to step out of their comfort zone every once and a while too.
5. Respect the environment
This is such a prominent ideal in possibly every Studio Ghibli film, however it is mostly featured in Nausicaä of the Valley of the Wind (1984), Princess Mononoke (1997), My Neighbor Totoro (1988) and Pom Poko (1994). One of Studio Ghibli's merits is their attention to detail, specifically with their set design. The studio are able to create lush paradises within their worlds and this is due in part to their depiction of the natural world. Still not convinced? Just watch this video which highlights 'The Most Beautiful Shots From Hayao Miyazaki & Studio Ghibli'.
6. Be kind to strangers
The entire plot of My Neighbor Totoro (1989) centres around being kind to strangers, sisters: Satsuki and Mei have just moved into a new house when they discover Totoro, a large forest spirit. Instead of fearing the creature, the two young girls are kind to him and become fast friends. This ideal can also be found in Kiki's Delivery Service (1989), when young witch Kiki decides to settle in a new town, it is her random act of kindness that leads to another act of kindness from a stranger which ends up in Kiki being offered a place to stay. I'm sure you will be able to find examples of this ideal in pretty much every Ghibli film.
7. Exercise your creativity
Many Studio Ghibli films feature creative characters, including artists Ursula (pictured) from Kiki's Delivery Service (1989) and Anna from When Marnie Was There (2014), Musician Seiji and writer Shizuku from Whisper of the Heart (1995) and even aircraft designer Jiro from The Wind Rises (2013). Considering the talent and artistry that goes into making these films, it is no surprise that the filmmakers decided to imitate life and include all these examples (and more!) to demonstrate the importance of exercising your creativity.
8. Take care of your loved ones
An ideal present in not just Studio Ghibli films but Japanese culture in general is the importance of caring for your family. This is evidenced in films such as My Neighbors the Yamadas (1999) which tells various short stories about the Yamada family, The Secret World of Arrietty (2010) which features the journey a family of borrowers must endure, Grave of the Fireflies (1988) which features a heartfelt story of a family torn apart by war and From Up on Poppy Hill (2011) which features a family unit who aren't necessarily related by blood. All of the films mentioned feature themes of the importance of family and putting others before yourself.
9. Don't take things too seriously
If you've seen every Studio Ghibli film, you'll already understand the variety of stories on offer. Some are heavy hitters like Grave of the Fireflies (1988), fantasy epics like Tales From Earthsea (2006) and visually innovative films like The Tale of Princess Kaguya (2013). There are also some other examples in which, you can't take things too seriously. For example sometimes, high school students are kidnapped by members of the cat kingdom and almost marry into the cat royal family, and sometimes, a group of Raccoon dogs decide they want to fight back against deforestation by using illusion magic to transform themselves. These films act as a small reminder to not take things too seriously.
10. Appreciate the little things in life
I believe the most vital lesson that Studio Ghibli have taught us is to appreciate the little things in life. Modern life can be a busy and stressful thing for everyone at one time or another and Studio Ghibli do a fantastic job at inspiring us to "stop and smell the flowers". Ghibli powerhouse and director of the studio's most successful productions; Hayao Miyazaki has been quoted as saying "I would like to make a film to tell children it's good to be alive". Miyazaki delivers on this by creating films that highlight how beautiful the small things in life really are, and this is evident in every film the studio have ever produced.
I had a lot of fun writing this post so feel free to create your own version using Studio Ghibli or any other filmmaker/production as an example! You can also let me know if you have any other ideas of life lessons the studio have taught you by tweeting me @hopeelizab on twitter!
For more Studio Ghibli and animation posts – see what else I've written on here as well as nerdoutwordout.com.


If you liked this post, try some of these:
#art #myneighbortotoro #princessmononoke #howlsmovingcastle #movies #StudioGhibli #cinema #Japaneseanimation #HayaoMiyazaki #anime #film #spiritedaway #Japanesefilm