Hope Eliza
Animated Characters Who Are Pure Hair Goals
Updated: Apr 9, 2020
Okay so this topic is a little unorthodox however I am currently in the midst of a hair fatigue period. So, I thought I'd try and give myself some hair-inspiration by listing some of the best hair out there in the animation world.
Usagi – Sailor Moon
One of the most recognisable traits of Usagi Tsukino aka Sailor Moon is her "meatball head" of hair, a nickname given to her by her love interest Mamoru aka Tuxedo Mask due to the two buns that usually sit upon her head. Usagi can often be seen wearing many hair accessories from bows, crowns, gems and more. Due Sailor Moon being an anime, Usagi's hair is almost always flowing behind her and defying the laws of gravity.
Merida – Brave
Merida's wild, un-tameable, Amber locks are famous in the animation world - mostly for being a nightmare to animate. Animation has come a long way in just the 6 years since Brave was initially released however Merida's hair will go down in history as one of the best in animation. Princess Merida's hair matches her personality; wild, messy and bright. It also runs in her family with her father and 3 younger brothers all having similar bright red, curly hair.
Asami – The Legend of Korra
Asami Sato is the whole package. She's brave, smart, talented and beautiful; with one of her most beautiful traits arguably being her long, dark hair. Asami is introduced into the series as Mako's love interest who later makes her way into the group due to her skill and commitment to the cause. She then becomes a good friend to the series' lead Korra and is hinted at becoming more than that during the series final season, is there anybody that this girl can't charm? The gif above should be enough to convince you that Asami's hair belongs in this list.
Marnie – When Marnie Was There
If there's anyone that should be named the kings/queens of hair animation, it should be Studio Ghibli. The studio's previous efforts have mainly showcased female characters with short, bouncy hair. However in the case of When Marnie Was There; the filmmakers decided to give Marnie long, flowing, wavy blonde hair and added plenty of windy scenes in which to show it off. Marnie's long bright hair contrasts to the other female lead of the film; Anna's short, dark hair. In typical Ghibli fashion, both girl's hair react to emotion and the environment with flawless results each time.
Daphne – Scooby Doo on Zombie Island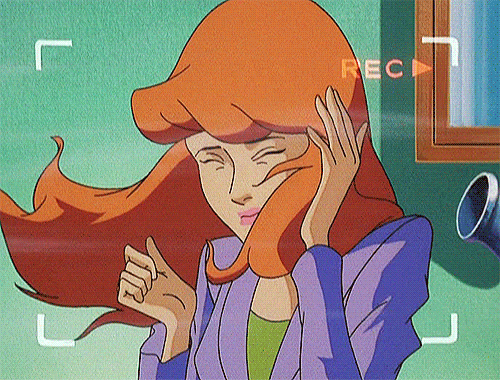 A character whose hair I've always admired is Daphne Blake's of the Scooby-Doo franchise. Since the age of 15 I've gone through phases there I've coloured my hair from light ginger to bright orange and I like to think that Daphne influenced this decision on some level. Daphne's style changes throughout the different iterations of the Scooby-Doo series, however her hair usually always follows a 60s style with loose waves, a soft fringe that is tucked under itself and a chunky purple hairband.
Astrid – How To Train Your Dragon 2
If there's any hairstyle that I love to see in animation, it's got to be plaits and Astrid has got 2 of them! Astrid sports a stylish, yet practical Viking hairstyle and since she's the lead character's love interest, she also has the shiniest and silkiest hair in all of Berk. Plait's are a running theme throughout the How To Train Your Dragon series due to their practicality and Viking heritage. I also wanted to include Ruffnut, another female viking living in Berk due to her two large, waist length plaits however Astrid won due to her hair looking just a little healthier, which is surprising as I've never seen a hairbrush in either of those films.
Ariel – The Little Mermaid
I'm almost certain that the term 'mermaid hair' may have come from the way Ariel's hair in The Little Mermaid is manipulated by water. As you can see from the GIF – I had a very hard time choosing a GIF to demonstrate this as there are just so many that demonstrate exactly what I mean – Ariel's hair flows and bends like a literal wave and stands out from the blues and greens of the sea by being bright lobster red, naturally! Even out of water her hair has a natural bounce and swoop to it, maybe it's the salt water?
So there you go! You may now be regretting your latest haircut. If you want to do a similar post to this, whether it be hair goals, style goals, life goals or any fictional character goals then feel free! Tag me in your lists so I can see if anyone else has similar tastes to me!
For more posts like this one, see what else I have to offer here on here as well as nerdoutwordout.com! You can also send me your lists if you make any similar ones at @hopeelizab on twitter!
If you liked this post, why not try some of these:
#Animation #hairgoals #disneyprincess #disney #howtotrainyourdragon #StudioGhibli #sailormoon #scoobydoo #Pixar #hairstyles #anime